TDS Payment Due Date
| | |
| --- | --- |
| Month | Due Date |
| April | 7th May |
| May | 7th June |
| June | 7th July |
| July | 7th August |
| August | 7th September |
| September | 7th October |
| October | 7th November |
| November | 7th December |
| December | 7th January |
| January | 7th February |
| February | 7th March |
| March | 30th April |
| | |
The due date for payment in case of TDS on sale of immovable property under section 194IA is 7th of next month including the month of March Notification 39/2013 (Applicable till month of May 2016). The date is extended to 30 days from the end of month beginning from June 2016. For eg – TDS deducted on 15th June 2016 is required to paid on or before 30th July 2016.
These due dates are not applicable for government's offices or who have any special permission from Assessing Officer.  There due dates are
When TDS is deducted by an office of the Government and tax is paid without production of an income-tax challan
On the same day on which tax is deducted.
When TDS is deducted by an office of the Government and tax deposited is accompanied by income-tax challan
On or before 7 days from the end of the month in which tax is deducted.
When TDS is deducted by a person (other than an office of the Government) and Assessing Officer has permitted quarterly deposit of tax deducted under section 192, 194A, 194D and 194H.
| | |
| --- | --- |
| Quarter | Last Date for Filing Return |
| 1st April to 30th June | 7th July |
| 1st July to 30th September | 7th October |
| 1st October to 31st December | 7th January |
| 1st January to 31st March | 30th April |
A common question asked is what is last date of payment when above mentioned due date falls on a Sunday or public holiday. In this case the next working day can be considered as last day of payment of Tax Deducted at Source.
When you are making electronic payment, keep in mind that payment made after 8 PM is processed on next working day. And if this happens you can't argue that i had made payment but bank processed it next day so payment is considered to be made the next day and you has to pay interest.
Assessing officer with prior approval from joint commissioner may allow the quarterly payment of tds. In that case last date of payment is 7th of the next month after each quarter and 30th April for the last quarter.



Interest on Late Payment of TDS
TDS Late Payment Interest Calculator
Interest is chargeable on short payment/late payment of TDS. There can be following scenarios :-
When TDS is not deducted
Interest at the rate of 1% per month or part thereof, for the period from the date on which TDS is deductible/collectible to the date on which TDS/TCS is actually deducted/collected.
When TDS is deducted but not paid
Interest at the rate of 1.5% per month or part thereof, for the period from the date on which TDS is actually deducted/collected to the date on which such TDS/TCS is actually paid.
Calendar month is considered in calculating interest therefore if you delay payment by one day, you have to pay interest for two months. For example, if TDS is deducted in month of July and deposited on 8th of August then you have to pay interest for 2 month i.e. July and August. Total interest payable shall be 3%.
Interest paid on delay in deposit of TDS is not allowed as a expenditure under Income Tax Act.
Notes – Interest on late payment of TDS can be paid before furnishing TDS return or after demand raised by Traces. Such interest can be adjusted from amount remaining in any TDS Challan (under any section).
How to make Payment of TDS
All corporate assessee and other assessee who are subject to compulsory audit under section 44AB are compulsorily required to use electronic transfer to make payment of TDS.
TDS is paid by Challan No./ITNS 281.
Payment link – NSDL.
Video Guide on How to make TDS Payment
Step 1 – Go to https://onlineservices.tin.egov-nsdl.com/etaxnew/tdsnontds.jsp
Step 2 – Select Challan No./ITNS 281 (Tax deducted at Source/ Tax collected at Source from corporates or non-corporates)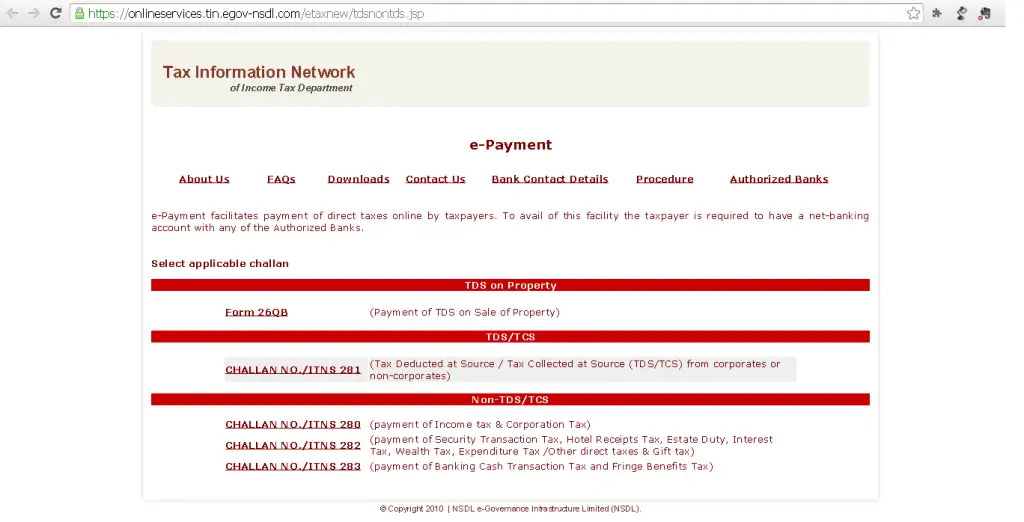 Step 3 – Select the type of deductees. Deductee is the person from whose payment you have deducted TDS. If deductee is a person other than company, then you should select (0021) Non-Company Deductees otherwise select (0020) Company Deductees for depositing TDS/TCS deducted of the companies. From this it is clear that we are required to use separate challan for company and non company deductees.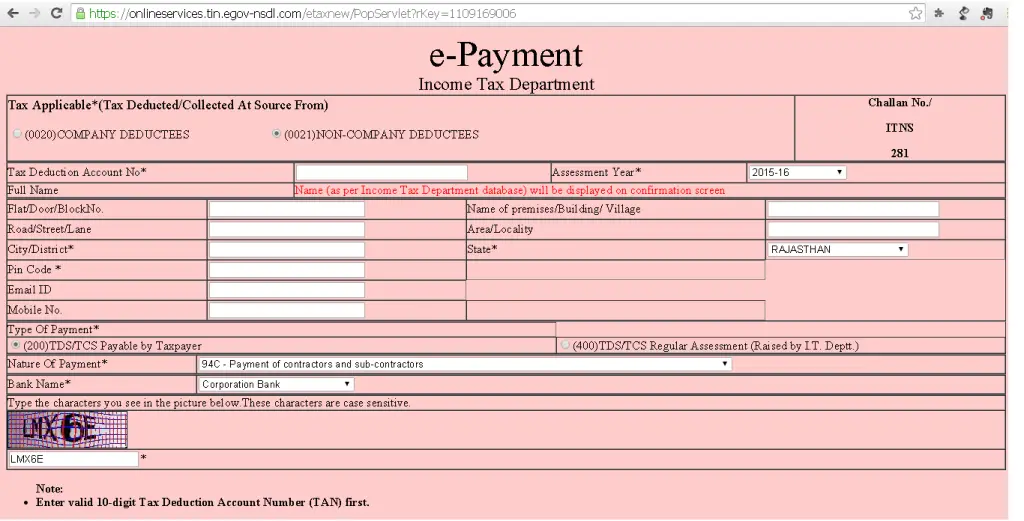 Step 4 – Enter the TAN number and fill the basic details in the form. City, State and pincode is compulsory. Address, email id and mobile are optional.
Step 5 – Select the type of the payment. If it is a normal payment then select (200) TDS/TCS Payable by Taxpayer or if it is a payment against the demand raised by the I.T. Department for eg payment of interest or late fee under section 234E then select (400) TDS/TCS Regular Assessment (Raised by I.T.Deptt)
Step 6 – Select the nature of payment. It should be based on the nature of the payment for which you have deducted TDS and now making payment to the Income Tax Department.


Step 7 – Select the bank from which you are going to make the payment.
Step 8 – Enter the verification code and click on Proceed.
Step 9 – Now you will get a filled form. Check the details and make sure the Full Name field showing the same name of the person who is making the payment.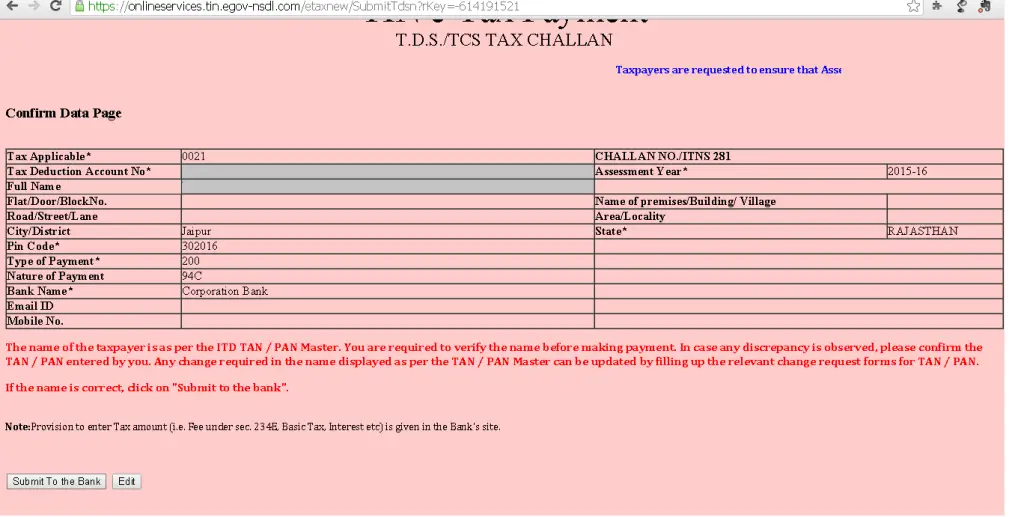 Step 10 – Click on submit to bank and then you will be proceed on the bank website. The option of entering the amount and other details will be available on the bank website.
Income tax department's official guide on TDS

Related Pages:
Also Read:
Composition Scheme under GST
What is Goods & Service Tax (GST) and its Fundamentals
TDS under GST