Login in GST portal gst.gov.in and go to return dashboard and select the month for which you want to file return. On left hand side select the Prepare Online or Prepare Offline option for GSTR-1. Please note that online option can be used only if number of invoices is up to 500. For more than 500 invoices you have to use offline utility only.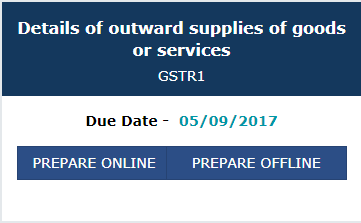 Using Online Utility
After clicking on Prepare Online, you will get the following screen. On top of screen you have to file the turnover for the financial year 2016-17 and in other box the turnover for April to June 2017. There are also 11 forms which you have to fill. If any form is not applicable then just leave it.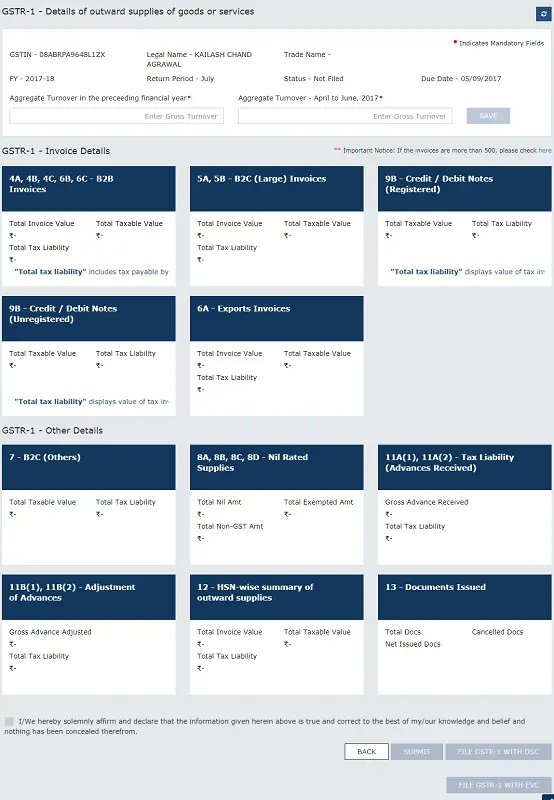 Business to Business (B2B) Invoices
In form B2B Invoices, you have to add each invoice which is issued by you to other businesses. Input credit to the purchasing business is allowed only after matching of such invoices. GSTIN of the purchaser is to be entered, his name will be taken automatically and Invoice No., date and Total invoice value to be entered. State in which purchaser's GSTIN is registered is taken as default for Place of supply, you can change it manually if required.
CGST, SGST or IGST applicable is selected on basis of your state and place of supply. There is two check boxes for Reverse charge and Sale through E-commerce operator, check the box applicable. Enter the taxable values against the rate of GST applicable. Invoices for which advance payment is received in previous tax periods and gst has already been paid are also to be included in this segment. Adjustment for such invoices are given in a separate segment form no. 11(B).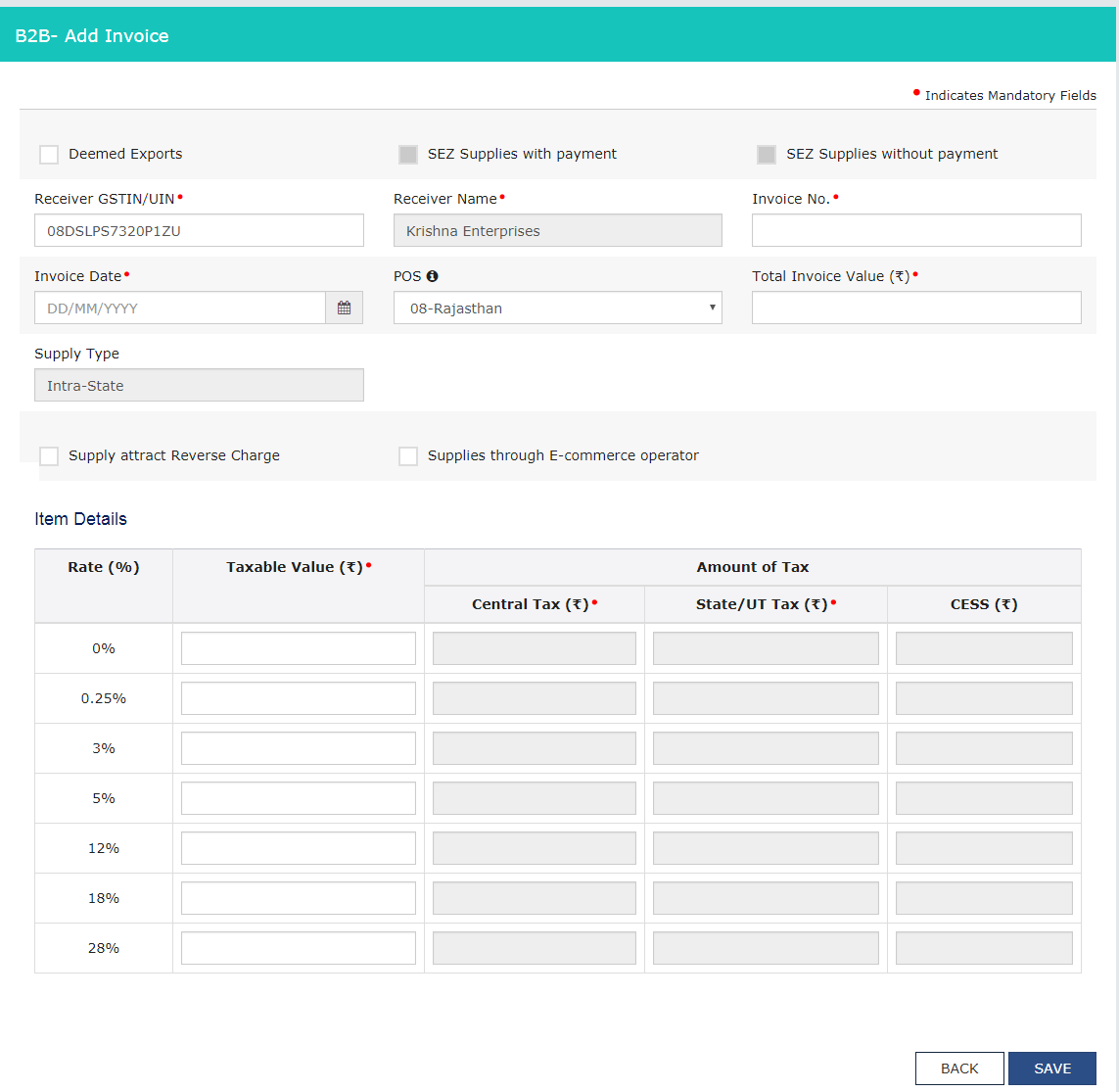 B2B Large Invoices
In this section you has to insert invoices of inter-State supplies with invoice value more than two and a half lakh rupees made to unregistered persons. Supplies made to registered persons is already covered in the B2B invoices segment. There is also a check box to select if sales is made through e-commerce operator.
Invoice value means the total value of invoice including GST.
Credit Note and Debit Note to Registered Persons
Credit note or debit note issues will be required to enter in this form. The details of original invoice to which such credit/debit note is related is also to be mentioned. Reason for issue is to be selected in the dropdown, options for which are
Sales return
Post sales discount
Deficieny in services
Correction in invoice
Change in POS
Finalization of Provisional Assessment
Others
If such note is related to pre GST taxes then Pre GST Regime is to be selected.
Credit and Debit Notes to Unregistered Persons
Debit notes and credit notes to unregistered person is to be entered here. Entry of each debit note and credit note is to be entered.
Export Invoices
Invoices of export are to be entered in this section. It is also required to be mentioned whether export is made with payment of IGST or without payment of IGST.
Business to Customer Cash Sales (B2CS – B2C Small)
Sales to customers who are unregistered or not provided their GSTIN is to be entered here. In this segment, individual invoices are not required to be entered and total sales is to be entered.
The sales is to be entered state wise and rate wise. Also sales made via e-commerce operator are to be entered separately.
Nil rated Supplies
There are four rows
Inter-state supplies to registered person
Inter-state supplies to unregistered person
Intra-state supplies to registered person
Intra-state supplies to unregistered person
and three columns
Nil Rated Supplies
Exempted(Other than Nil rated/non-GST supply)
Non-GST Supplies
Nil Rated supply means goods on which GST rate is 0%.
"Exempt supply" means supply of any goods or services or both which attracts nil rate of tax or which may be wholly exempt from tax under section 11, or under section 6 of the Integrated Goods and Services Tax Act, and includes
non-taxable supply. But specifically mentioned that supplies other than Nil rated and Non GST supplies are to be mentioned here.
Non-GST Supplies are supplies on which GST is not applicable like petroleum, liquor.
Tax Liability (Advance Received)
Under GST if advance payment is received then GST is payable in month of receipt of such advance. Such advance is to be entered here. If advance and invoice date is in same month then it is not required to enter here. State wise and gst rate wise details is to be given. Invoice wise or payment wise details is not required. Tax on such payment is added to the current tax period liability.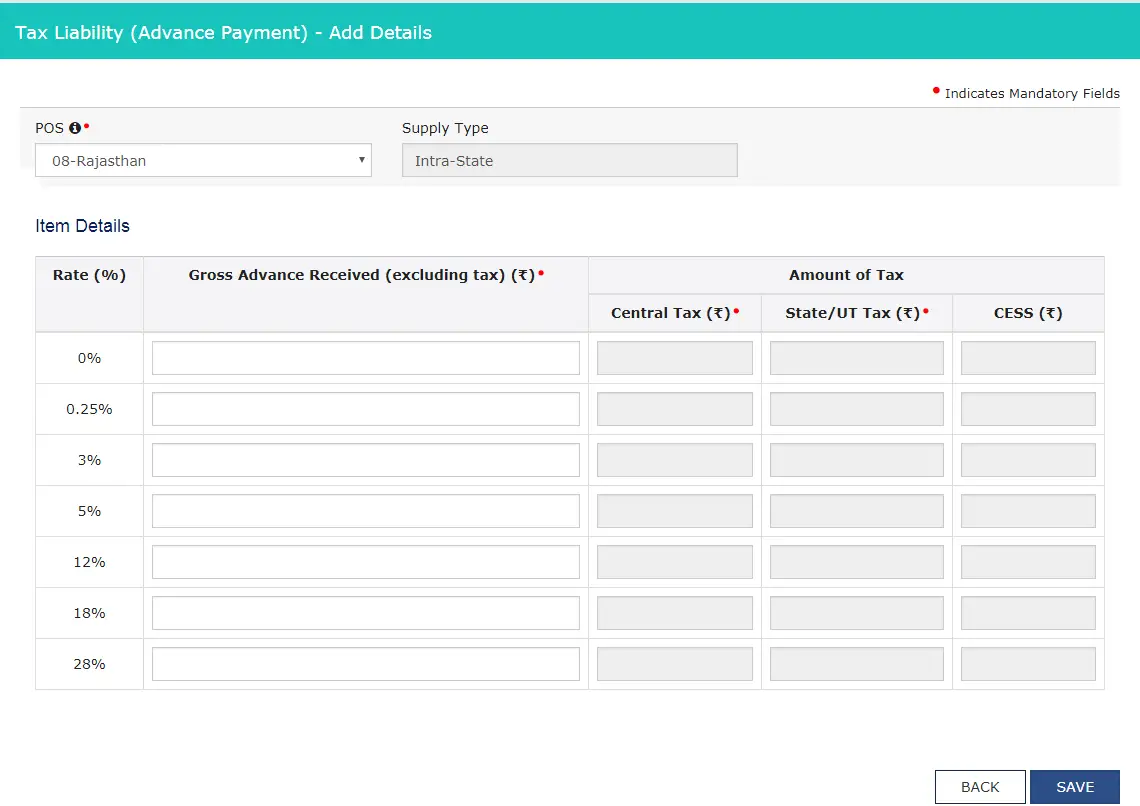 Adjustment of Advances
Amount of payment which had been received as advance in previous periods and tax already been paid on it. Such invoices are to be included in B2B segment. Tax on such amount is deducted from the current period tax liability. State wise and gst rate wise details is to be given. Invoice wise or payment wise details is not required.
HSN Codes Details
Details of taxable value and IGST , CGST, and SGST payable for each HSN code is to be entered here.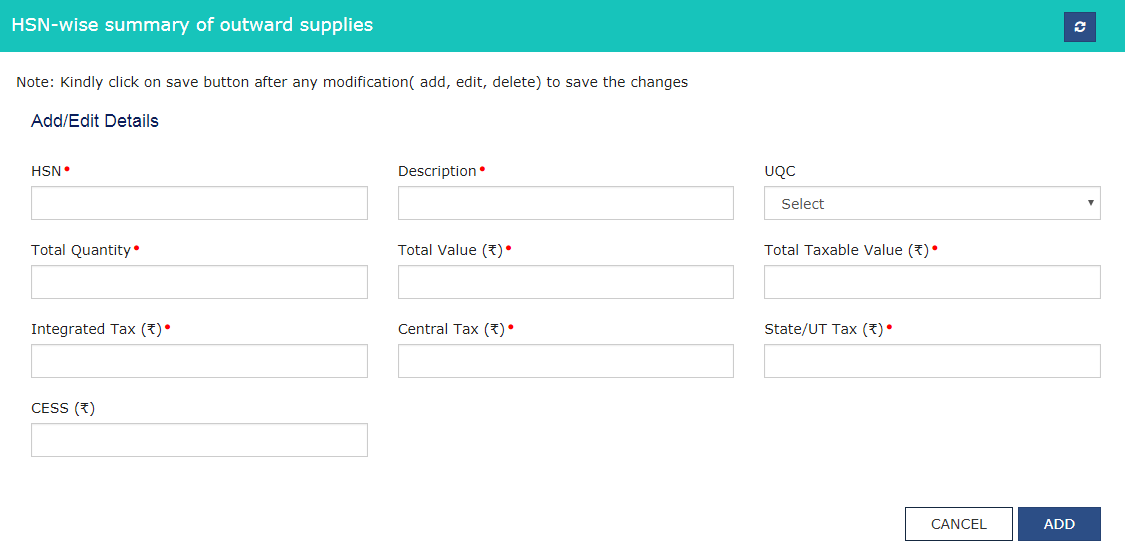 Documents
Documents details issued during the tax period is to be given. The starting serial number and ending serial number is to be given. And number of documents cancelled is to be provided. Following documents details are to be given
Invoices for outward supply
Invoices for inward supply from unregistered person
Revised Invoice
Debit Note
Credit Note
Receipt voucher
Payment Voucher
Refund voucher
Delivery Challan for job work
Delivery Challan for supply on approval
Delivery Challan in case of liquid gas
Delivery Challan in cases other than by way of supply (excluding at S no. 9 to 11)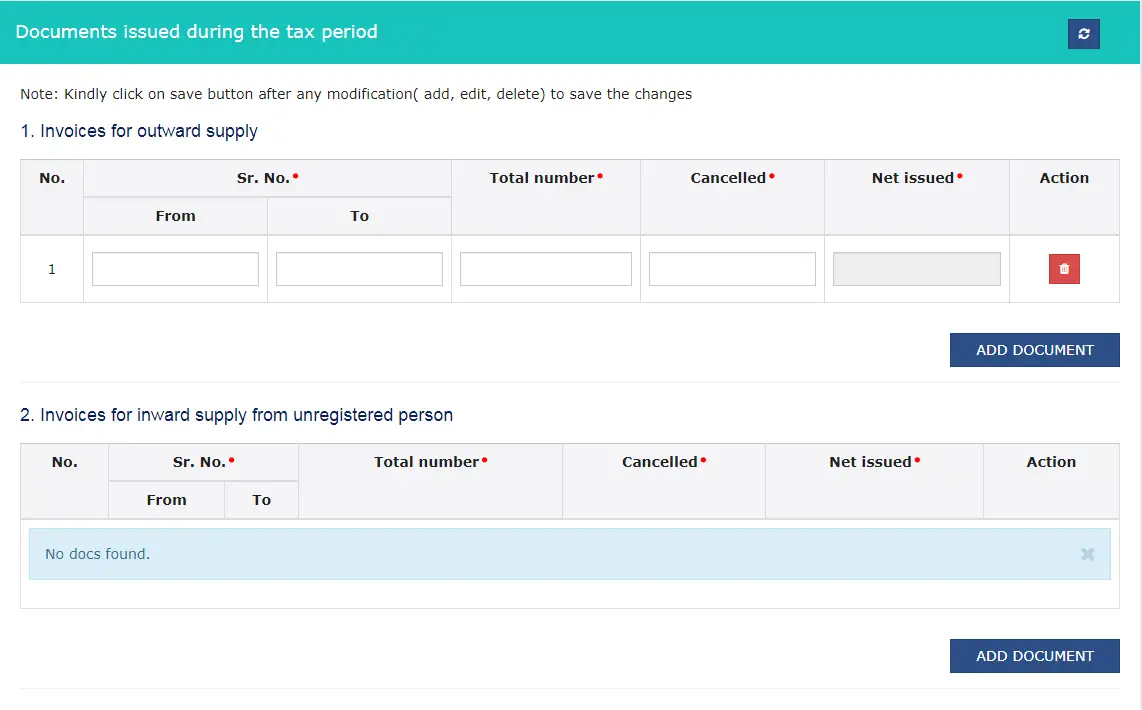 Using Offline Utility
The offline utility can be downloaded from https://www.gst.gov.in/download/returns. The utility also contains user manual. Offline utility also opens in browser.
It contains an excel workbook and a folder containing section wise csv files for all segments mentioned above. The excel file contains sheet for every segment. CSV file or excel sheet can also by exported by accounting software or erp.
You can use any option – the excel file or csv files or copy the data from excel. Copying data works only in case of small number of records.
You can insert the data in excel sheet or csv and then import it in the utility.
After opening the GST offline utility, in leftmost side click on New.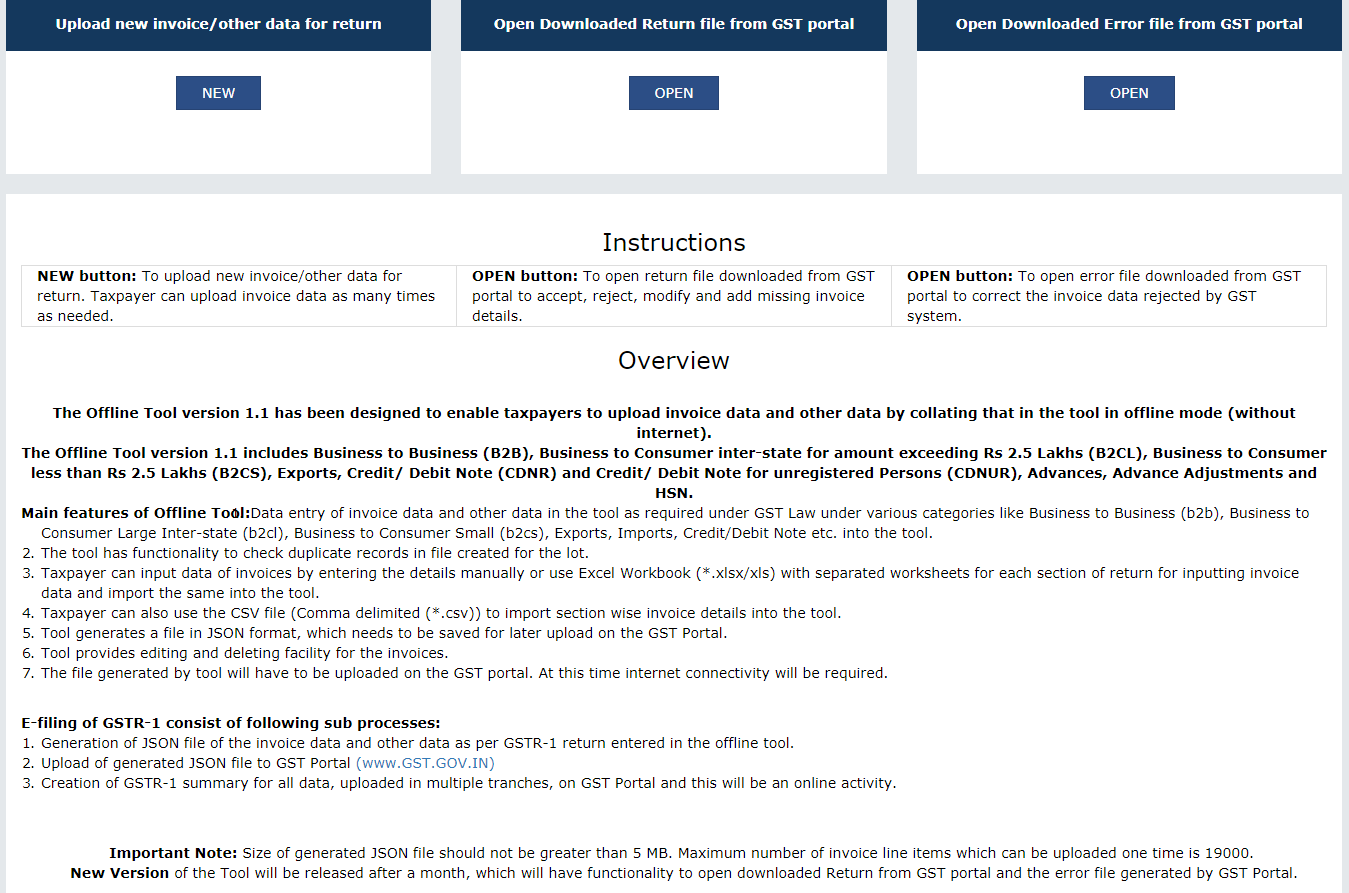 On next screen, write the GSTIN of filing person, Select tax period and aggregate turnover of preceding financial year and April to June 2017 and click Proceed.

For excel sheet, click Import Excel. To use csv files select the type of section and click on Import CSV. For copy pasting data from excel select Copy Excel.

And then click on View summary. After importing of data you can change data if required , although some fields can not be changed.
Click on Generate file and Json file will be generated which can be uploaded on GST portal after logging in.