Goods and Service Tax (GST) is applicable in India from 1st July 2017. Before 1st July 2017, service tax applies to services and vat, excise duty etc. apply to goods.
Now GST is applicable to trading and manufacturing of goods as well as on providing services.
GST is not applicable to alcohol, crude petroleum, motor spirit, diesel, aviation turbine fuel and natural gas.
Here is a list of taxes which are applicable before GST and is no longer applicable.
Central Indirect Taxes
Central Excise Duty
Additional Excise Duties
Service Tax
Additional Customs Duty (CVD)
Special Additional Custom Duty
Central Surcharges and Cess
State Indirect Taxes
VAT/Sales Tax
Entertainment Tax
Central Sales Tax
Octroi and Entry Tax
Purchase Tax
Luxury Tax
Tax on Lottery
State Cesses and Surcharges
GST is a consumption-based tax; it means that the state in which the final sale to the consumer is made is entitled to get the tax.
WHAT IS CGST, SGST AND IGST?
The GST system in India contains three types of GST. They are
Central GST (CGST) – levied by central government
State GST (SGST) – levied by a state government
Integrated GST (IGST) – levied by the Central government on an inter-state supply of goods and services
On sale of goods/service either IGST is to be charged or SGST & CGST both to be charged. If the business is in union territory, then UTGST will apply in place of SGST. The difference is only in name; the concept is same.
Applicability of different types of tax
| | | |
| --- | --- | --- |
| Transaction Type | Type of GST Applicable | Example |
| Intra-state (i.e. sale within the same state) | CGST + SGST | A dealer in Delhi makes a sale to another dealer in Delhi. GST rate is 18%, so CGST of 9% and SGST of 9% will be applicable. |
| Inter-state (i.e sale outside state) | IGST | A dealer in Mumbai makes a sale to a dealer in Delhi. GST rate is 5%, so 5% IGST will be applicable. |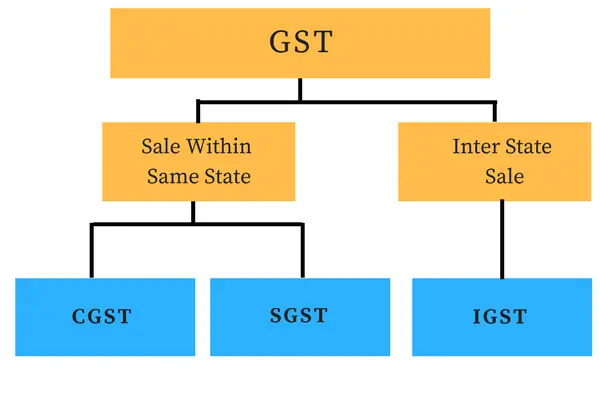 Services on which GST is not applicable
GST is not applicable to certain services such as
Salary and wages
Electricity
Interest
Government Fees (such as MCA fees, land registration fees etc.)
Calculation of GST Amount
A registered person needs to pay the difference of GST on sales and GST on purchases made in a month. The purchase may be of goods, services or capital goods.
For example, A person makes sales of Rs. 1 lakh in the month of January and collected GST or Rs. 5,000 at the rate of 5%, in the same month he had made purchases of Rs. 80,000 and paid GST of Rs. 4,000 at the rate of 5%.
Rs. 4,000 is allowed as a deduction from the Gross tax payable of Rs. 5,000. And therefore a net of Rs. 1,000 is payable to the government.
Deduction of GST paid on purchase of goods, services or capital goods is called as input tax credit. There are certain limitations and restrictions on taking input tax credit. You can read more about it from here – Input Tax Credit Under GST
GST Rates Slab
GST rates are as under
0% (necessity items like milk, wheat flour)
0.25% (rough diamonds)
3%  (gold, silver etc)
5%
12%
18%
28%
Most of the items fall in the category of 5%, 12% and 18%. GST of 28% is applicable on some items like cement, car, tobacco. There is also a Cess which is applicable only on a handful of goods like car, tobacco, pan masala.
Still has a question? Write a comment below and I will try my best to answer quickly.