A number of business accounting software are available in market these days but quite few of them satisfies the customer's needs in an easy way. A number of software has emerged in the past few years which makes the competition tough for market leaders like Tally.
Businesses starts preferring online application due to several benefits such as anywhere access, auto backup etc. If you are still confused about which is best for you then read our guide – Accounting Software or Online Accounting Application
Small businesses generally required entering of simple transactions and generation of basic reports. They are not required to have a complex ERP package. Their aim is to know their sale, purchase, cash balances and to complete their legal formalities.
We have compiled the list of most reputed and used accounting software used mainly in small and medium enterprises.

No doubt Tally is the most famous and widely known accounting software in India for over two decades. Starting with the MS-DOS based edition tally has seen many changes and is now a complete ERP package in itself. Bundled with the VAT reports from all the states of India, the latest version is Tally ERP 9. Single-user version is priced at Rs. 21,000 and multi-user version is at Rs. 62,000, which is quite on the higher side and also rs. 4,000 per year if you want to get updates. You can also use remote desktop version in which you can access tally from a remote location but your server should be switched on for the whole time.
Being highly priced it is also the most pirated software in India. But a huge number of users of pirated version reports corruption of data, data mismatching and loss of data. We highly recommend to use only the licensed version of Tally.
Pros
Larger Acceptibilty
Good for business with huge transactions (> 50,000 per year)
Cons
Expensive Option
Hard to learn for newbie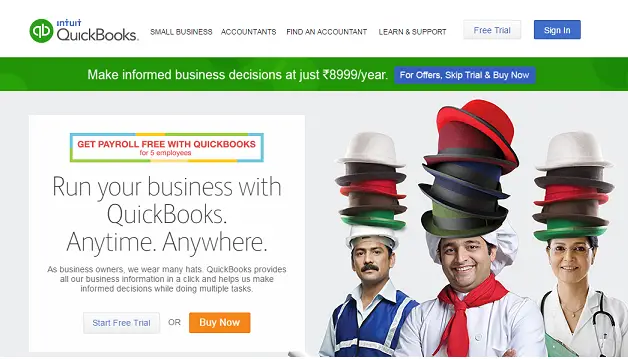 Quickbooks from Intuit is the most widely used accounting platform in the World. Quickbook launched its Indian version in 2012. Indian version is still available in online mode only. One important feature of quickbook is its ability to import data from a number of bank's website and auto allocate it to the accounts.
Though quickbook is a world leader in accounting software but its Indian version's working is quite different from which the Indian accountants are used to be. Price of quickbook is rs. 4,999 per year which is also on the higher side.
Pros
Anywhere access
Good support
Feature rich
Cons
Quite hard to learn as using US accounting concepts
Pricing quite high

Busy is famous for its inventory features. It provides its software in three versions basic, standard and enterprise. Price exclusive of taxes are rs. 7,200, 13,500 and 19,800 respectively for aforementioned versions.The company claims to have more than 6,00,000 users.
Pros
Good inventory features
Wide acceptiblity
Feature rich
Cons
Typical concepts in some features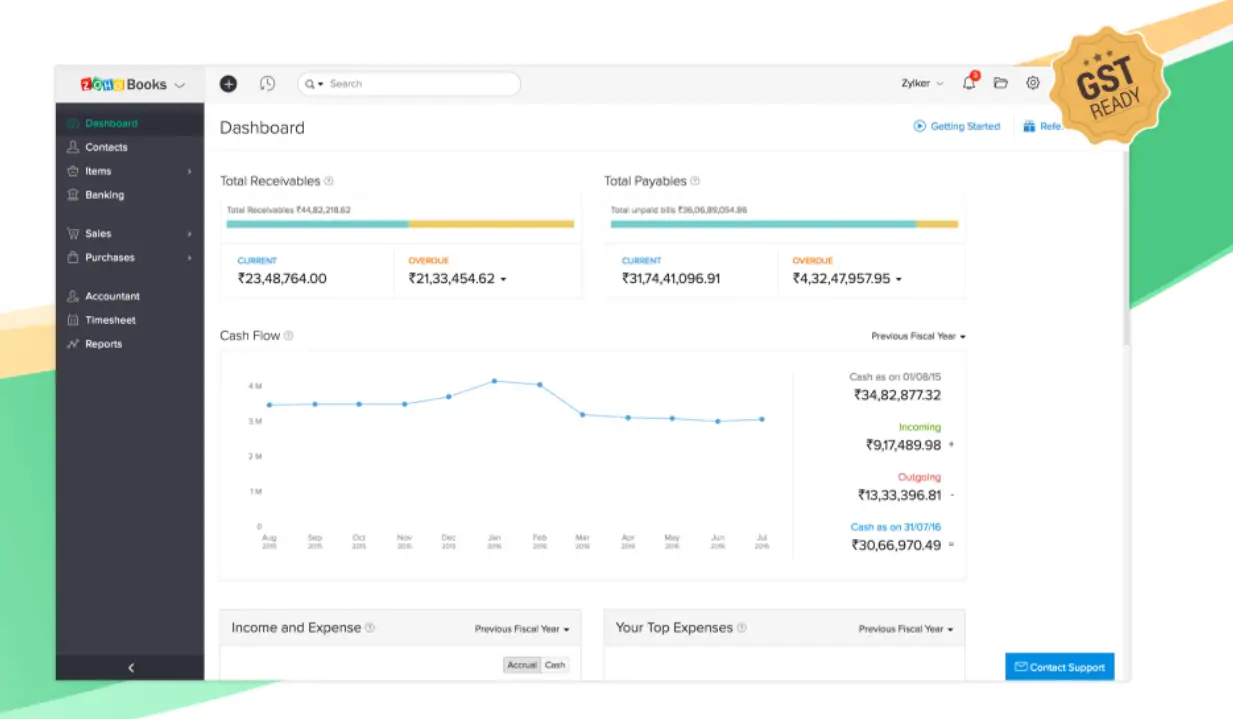 Zohobooks accounting software is another famous accounting software in India. Zoho company is mainly famous for its CRM but now company is targeting its accounting software in Indian Market. However it has some confusing working pattern and may sound confusing to Indian accountants.
Pros
Anywhere access
Good support
Reasonable price
Cons
Quite hard to learn as using US accounting concepts
Hard to setup

Marg is another windows based software which is mainly used in specific sectors like pharmacy, jewellery etc. Although, it is a general accounting software and can be used by any business. It also provides lifetime license in Rs. 7000 to CAs in practice.
There are more than 100 accounting software and web applications providing accounting services in India.
A comparison of the above mentioned software is given to help you choose the right application for you and you can also read our article to know which is better Accounting Software or Online Accounting Application.
 Basis
Tally
Quickbooks
Busy
Zohobooks
Deployment
Offline*
Online
Offline
Online
Suitable for sectors
Trader,
Service Provider & Manufacturer
Trader &
Service Provider
Trader,
Service Provider &
Manufacturer
Trader,
Service Provider
Accounting Concepts
Indian
US/UK
Indian
US/UK
Pricing (Basic Version)
21,000+ (Unlimited companies)
4,999 per year per company
7,200+ (Unlimited companies)
2950/year
Multi User
Separate Version (Rs. 65,000+)
Available
Separate Version (Rs. 33,750+)
Available
Data Backup
Manual
Auto
Manual
Available
Inventory Management
Available
Available
Available
Available
*Online remote desktop version is available in Tally.
+ Pricing of basic version. Higher price plans are available.