Goods and Service Tax (GST) is a system of indirect taxation which is adopted by 150 countries all over the world. In India, GST bill was passed by Lok Sabha in 2015 and by Rajya Sabha on 3rd of Aug, 2016. It is going to be applicable from 1st July 2017.
After implementation of GST, all the indirect taxes will be subsumed in it. The taxes which are subsumed by GST are
Central Indirect Taxes
Central Excise Duty
Additional Excise Duties
Service Tax
Additional Customs Duty (CVD)
Special Additional Custom Duty
Central Surcharges and Cess
State Indirect Taxes
VAT/Sales Tax
Entertainment Tax
Central Sales Tax
Octroi and Entry Tax
Purchase Tax
Luxury Tax
Tax on Lottery
State Cesses and Surcharges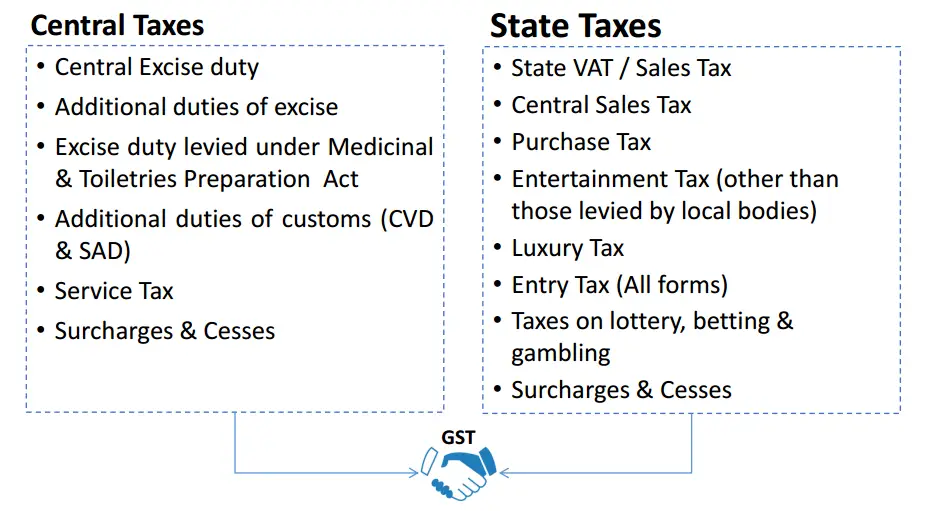 GST is a consumption based tax; it means that the state in which the final sale to the consumer is made is entitled to get the tax. GST would apply to all goods other than alcohol, crude petroleum, motor spirit, diesel, aviation turbine fuel and natural gas.
The GST system in India will contain three structures of tax
Central GST (CGST) – levied by center
State GST (SGST) – levied by state
Integrated GST (IGST) – levied by the Central government on an inter-state supply of goods and services.
Read more – Understanding CGST, SGST and IGST