Online registration for service tax is made compulsory for all assessee. Application for service tax registration has to be filed in form ST-1 which can be submitted online on ACES portal. The process for registration through ACES is as under
Step – 1 Create an account on the following link https://www.aces.gov.in/STASE/ui/jsp/common/registerWithACES.do
A password will be sent to your email id. Use this password to login and you need to change password on first time login.
Step – 2 Login into your account and Click on Fill ST-1 form available under the REG tab.
ST-1 form will be open as shown below and fill all the details in the form.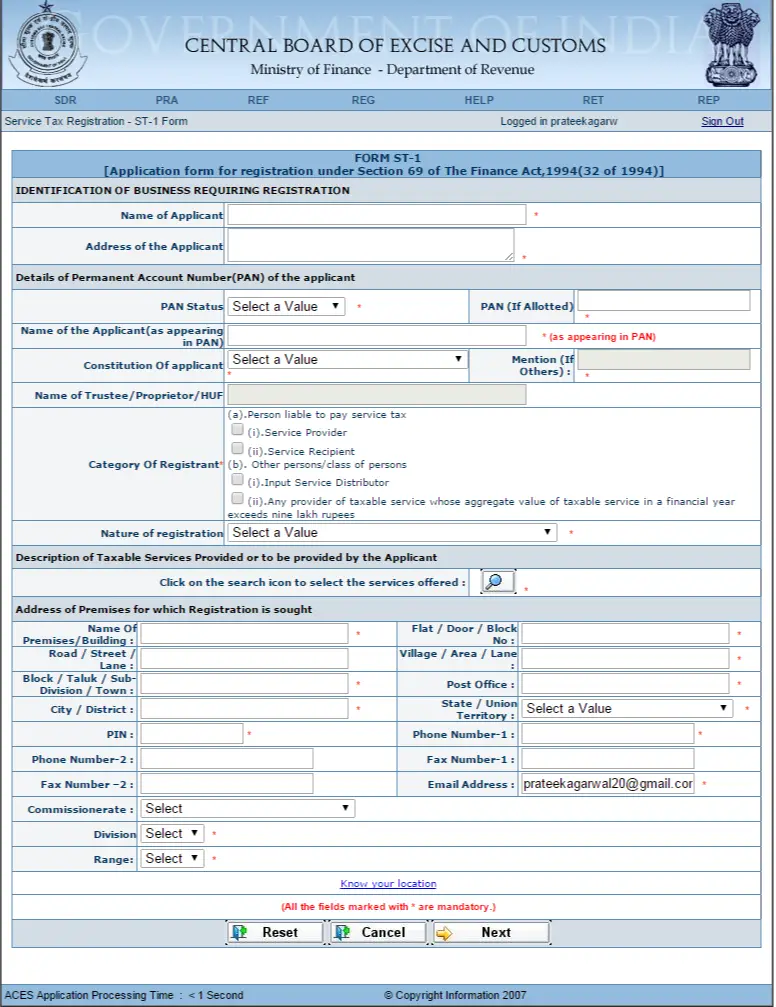 You have to mention Commissionerate, Division & Range while filing the form.  You can see your commissionerate on the following link  https://www.aces.gov.in/STASE/ui/jsp/common/statelocation.do
Step – 3 The hard copy of online submitted form along with the acknowledgement has to be submitted within 24 hours of making the online application along with the following documents
Copy of PAN card
Proof of Residence
Copy of constitution/ partnership deed/memorandum of association
Residential address of proprietor /partners in the firm along with address proof
Registration certificate is to be issued in form ST-2. Department is required to issue Registration certificate within 7 days of the receipt of application or sent intimation of non-acceptance of application. If the department doesn't issue certificate or intimate non-acceptance within 7 days then the registration is deemed to be granted.
If there is delay in registration, then penalty up to Rs.10000 or Rs.200 per day of delay (whichever is higher) can be imposed by the department. However if the assessee proves that there was a reasonable cause for the delay, the penalty can be waived.
In case an applicant has opted for online issue of Service Tax Registration, the ST-2 Form would be available on the homepage of the assessee and can be viewed by clicking REG>View>Latest ST-2