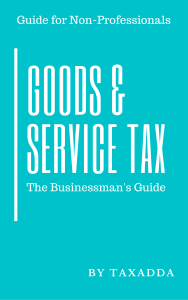 PAY VIA PAYTM
This e-book is written for the businessmen who want to have a working knowledge of the upcoming GST. The book is written in easy to understand language for non professionals.
There are many rules and regulation which are yet to be released. And many subsequent changes are also expected. So we will provide you with every updated version of the e-book which are released till 31st August 2017.
This is the first version which is released on 02nd June 2017.
Contents
Basics of GST
Understanding IGST, CGST, SGST & UTGST
Registration
GST Rates
Composition Scheme
Invoicing
Payment
Input Tax Credit
Returns
Audit
E-way Bill
Valuation of Goods/Services
Time of Taxation
Place of Supply
Accounting Records
Refunds
TDS under GST
TCS under GST by E commerce Operator
GST compliance Rating
Accounting
PAY VIA PAYTM